SOM Restaurant
Pure Mediterranean cuisine, a menu full of flavour and colour.
Dishes made with healthy ingredients to satisfy your passion for gastronomy. A restaurant with different options ready for celebrations, meetings and enjoyment. A unique space with a large garden and swimming pool.
Go ahead and be seduced
Lunch hours
1.30 p.m. to 3.45 p.m.
Monday to Sunday
Dinner hours
8.30 p.m. to 10.30 p.m.
Monday to Sunday
Book online
Book online
Breakfast buffet
The best breakfast, every day
Enjoy and go back for more. Toast with cheese, croissants, freshly cut fruit… Wake up every morning with the feeling of conquering the world.
Breakfast times
7.30 a.m. to 10.30 a.m.
Monday to Friday
8.00 a.m. to 11.00 a.m.
Weekends and holidays
Café
Café
The only condition is that you enjoy yourself
Located at street level, it is the ideal place to walk around and unwind after a long day. Watch the people go by, their movements, the area… Let every detail inspire you and live in the moment. A snack, a sandwich or a salad. Enjoy them in our café, as many times as you like.
Opening times
7.30 a.m. to 11.00 p.m.
Monday to Sunday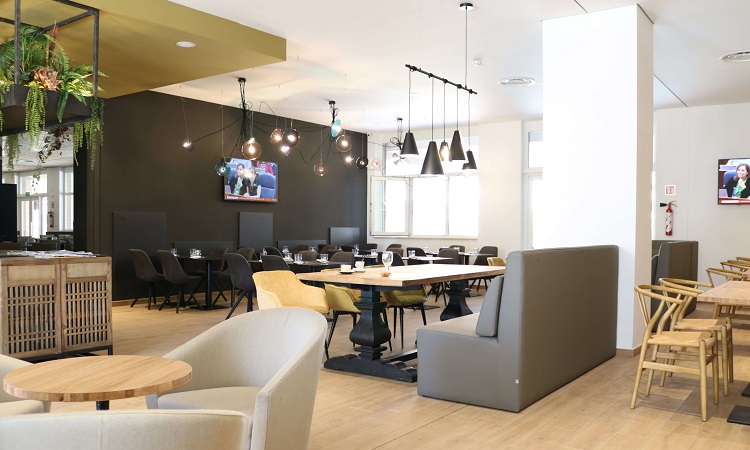 Catering and event services
The exception of the impossible
With the most professional team at your disposal, we will make sure that your catering service is the way you imagined it to be. You will have the best wedding, the banquet of your dreams, the menu adapted to your business requirements or the informal cocktail party you want for your product presentations. Everything you need, everything you want.
Check out our section for Weddings & Banquets and we will provide you with further details.
Weddings & Banquets
Weddings & Banquets